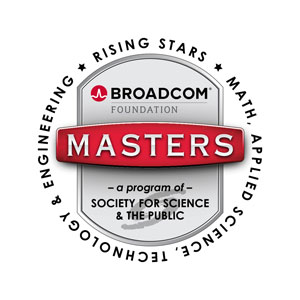 The 2020 Broadcom MASTERS is open to all 6th, 7th, or 8th grade students that were registered to participate in the 2020 Flint Regional Science and Engineering Fair.
How do I apply?
Open your online application.  Start your online application by visiting  https://broadcommasters.fluidreview.com  Once you have opened your application, you may save your work and return as many times as you wish until June 10.   An email has been sent from the FRSEF with your Username and Password.  If you have not received the email, first check your spam folder and then email director@flintsciencefair.org.
Submit application by June 9.  Applications are due June 10, 2020 at 8:00 PM EST, finish early.  Register now to receive regular updates.
Fair ID of the FRSEF: USMI03
You will need to upload your SRC paperwork.  If you have any questions or do not have it please contact the FRSEF at director@flintsciencefair.org
There was a webinar with an overview of the competition and answered questions from students about the application.  A recording of the webinar can be found here: https://www.youtube.com/watch?v=n47QQ5oMpqk.
What Can I Win?
All Broadcom MASTERS nominees who complete and submit their application are eligible to be selected as one of the Top 300 MASTERS. The Top 300 MASTERS win an awards package that includes a digital subscription to Science News magazine, plus more. Teachers of all Top 300 MASTERS receive educational prizes, too!
The 30 finalists are selected from among the Top 300 MASTERS. Each finalist wins $500 and an all-expense paid trip to showcase their research project in Washington, DC and compete in hands-on team challenges during finals week. Each finalist's school receives $1,000 and teachers receive prizes, too.  Anticipated top awards include the $25,000 Samueli Foundation Prize; the $10,000 Lemelson Award for Invention; the $10,000 Marconi/Samueli Award for Innovation; the $10,000 Robert Wood Johnson Foundation Award for Health Advancement; the $10,000 STEM Talent Award sponsored by DoD STEM; the opportunity to attend a STEM summer camp of your choosing; iPads and more!
Does anyone from the FRSEF win?
YES!  Last year, 2 FRSEF students were in the Top 300 and in 2018 1 FRSEF student was in the Top 300.  Apply, as your research is excellent!