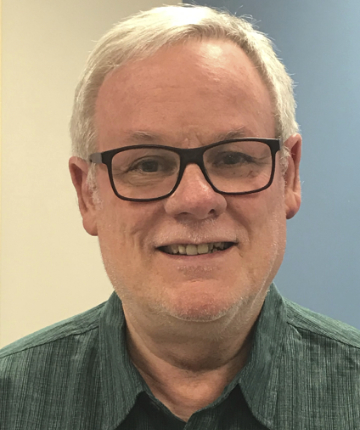 The Flint Regional Science Fair Board was pleased to present the 2019 Educator of the Year award to David Spence, 5th grade teacher at Borland Elementary School in Imlay City. The award includes a certificate, a plaque and $250. A panel of Board members and the prior year's recipient select the Educator of the Year from among those nominated by their peers, parents and students. The award recognizes a teacher or adult mentor who displays a remarkable ability to empower and excite student interest in science.
"I first became interested in science when my 7th grade teacher made science hands-on and exciting," recalled Mr. Spence. "Field trips involved going into the woods behind our school where opportunities for discovering plant and animal life were abundant. Everyday was an adventure!"
Teaching was not Mr. Spence's first career choice. After a successful career in newspaper circulation management, he decided to follow a dream to become a teacher. He went back to college at Saginaw Valley State University, graduated in 1998 and started his teaching career at Imlay City Schools the same year. His association with the Flint Regional Science Fair started in 2000; the same year he was given the position of Science Chair for Borland.
"Engaging students in deep conversation, creating models and providing further questions to inspire further exploration is not only exciting for the students, it's equally exciting for the teacher! Students embrace the idea of creating "wonderings" and providing the "evidence" to support their claims. Have the chart paper ready – students will have "fun" in science!   Teachers who try it might find it chaotic at the beginning, but when they see students making connections, and the excitement and confidence it creates – the rewards will follow."